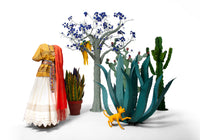 Exhibition: Miradas de Mujeres
The Royal Museums of Fine Arts of Belgium present Miradas de Mujeres (Gaze of Women), an exhibition that highlights the view of Belgian artist Isabelle de Borchgrave on Frida Kahlo.  
 Miradas de Mujeres honours a dialogue between two women who have never met – the first being born shortly before the death of the second – but who nevertheless share a love of fabric, patterns and colours; a women's perspective on the artist's role in society. 
 Isabelle de Borchgrave took almost three years to create Miradas de Mujeres, a titanic work painted by hand, which required more than 4 kilometres of paper and cardboard to make the dresses, carpets, furniture, trees and other elements that recreate the unique universe of Frida Kahlo and her iconic house, the Casa Azul (The blue house). 
Her approach invites us to journey into an often-ignored facet of Frida Kahlo's intimate personality, surprisingly more cheerful and radiant than her artistic work might suggest. To do this, Isabelle de Borchgrave recreated nearly 40 dresses and personal outfits of the Mexican artist, presented here against the backdrop of the Casa Azul, her birthplace and home
Royal Museums of Fine Arts of Belgium
Dates: from October 14 2022 to February 12, 2023 From Tuesday to Friday 10am-17pm, Sunday 11am-18pm